January 13th, 2019
We got our limit on Kingfish again today and released a bunch more, then headed offshore looking for Dolphin, (Mahi). Found some floating debris and some weed lines and got some nice Dolphin especially for mid-January. Seas were much calmer today as compared to yesterday.
The colors of a Dolphin are awesome even when they are small
January 12th, 2019
Got our limit on King Mackerel today,(2 per person) and released a few more. I wanted to go offshore looking for Mahi afterward, but it was surprising rough offshore and we opted to fish the reef instead to keep it comfortable for all involved
January 11th, 2019
Tough Day Today
Went looking for Yellow Tail Snapper for Dinner. The Snapper where and biting just fine, problem was the sharks were there too.
The "Tax man" as they're called was getting about 9 out of 10 snappers. It didn't leave us much. We made 3-4 moves, but everywhere we went it was the same story.
January 6th, 2019
Finally Got some "normal" January weather! Cool North wind, relatively cool temps, (low 70's) and some good reef fishing.
Caught this 43lb Kingfish on 20 lb spinning tackle using a live blue runner for bait.
Got our limit on Yellowtail Snapper Too!
January 5th, 2019
Unfortunately, this time of year, when you have a perfectly beautiful warm sunny day such as we had yesterday, it is usually followed by a cold front. The day before the front is usually the nicest. This front wasn't too bad and tomorrow will be cooler and dryer, but not cold. Highs should be in the mid 70's tomorrow. Not too shabby for early January!
Tried to hide from the weather a bit and anchored up and caught some nice Yellow Tail Snapper for Dinner!
January 4, 2019
Weather was perfect today!
Calm, sunny and warm.
It was the best day we've had in a couple weeks with regards to the weather.
Beautiful day for Dolphin fishing in Key West on Charterboat Southbound.
January 3, 2019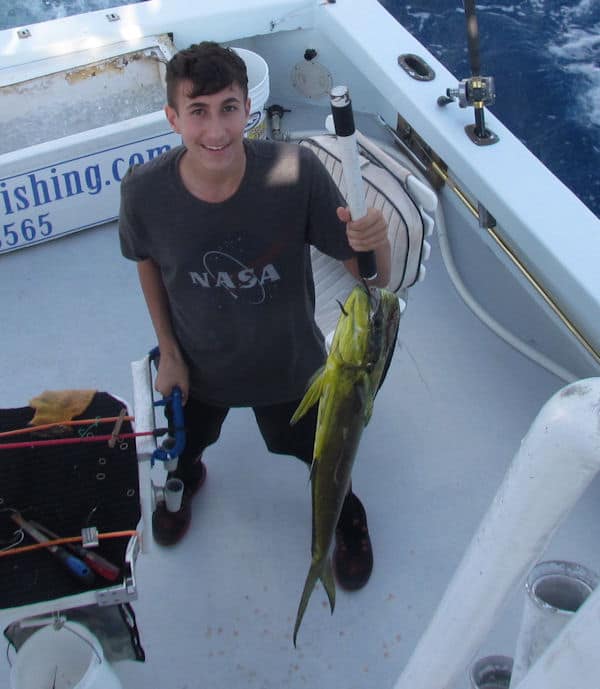 Bull Dolphin caught in Key West fishing on the charter fishing trip with Southbound.
January 1, 2019
HAPPY NEW YEAR!
We slept in today so everyone could enjoy New Year's Eve and the fishing trip. We left at noon and tried to get some live bait. Bait has been extremely difficult to find this year and unfortunately, today was no exception. We anchored and put out some chum in an area where another boat claimed to have seen a good school of Ballyhoo yesterday. All we saw were Houndfish. We caught a couple of Yellowtails and went to trolling.
We were hoping the Back Fin Tuna would bite just before sunset and they did. Not crazy, but we got a few before we had to head in.
Tuna, Mackerel, and Yellowtail caught in Key West fishing on Key West charter fishing trip with Southbound.
One of the "benefits" of a late trip is we usually get a nice sunset on the ride home.