My customers wanted to fish the reef today.
Our target species was Yellowtail snapper. At first, I was a little apprehensive. It was blowing a bit in the morning, 18-21 mph but it was supposed to calm down as the day went on. I figured we would give it a try so off we went yellowtail snapper fishing Today.
The first spot I went to was off the edge of the reef. It was about 70 ft deep and I had some great "marks" of fish on the bottom machine. We got some small ones, but every time we hooked a good fish, it got us in the bottom or got eaten on the way up. It was frustrating. Lots of bites, but not many fish going in the box. I gave it a good hour or better, but we just could not bring up any quality fish. If I used heavier line, we didn't get the bites.
I made a move to the west a little way.
We were still on the deep edge of the reef. My next spot was a little shallower. About 55 ft. Conditions were good at both spots. East wind and a good west current. The winds started laying down and the west current was good but not too strong. We started catching pretty steady at this spot. Nice "keeper" yellowtail snapper. No monsters, nothing we really had to measure to make sure they were legal.
We did get some live ballyhoo while on the anchor. Not a "crush" but enough that we could drift on out on the surface while we were fishing for Yellowtail snapper today and hope for a bite from a good fish.
We got two bites on the live ballyhoo.
Both were good fish on the 20lb spinning tackle. The first was a full-sized bonito. Fun to catch, but not a good eating fish. The second one was a 20lb King mackerel. That turned out to be the biggest fish of the day.
We spent the last two hours
out in the blue water drifting the live ballyhoo and hoping for a Sailfish. There had been a few caught but by the time we got out there, it had gotten pretty quiet. We had a few bites from "toothy critters" but never anything we thought was a sailfish.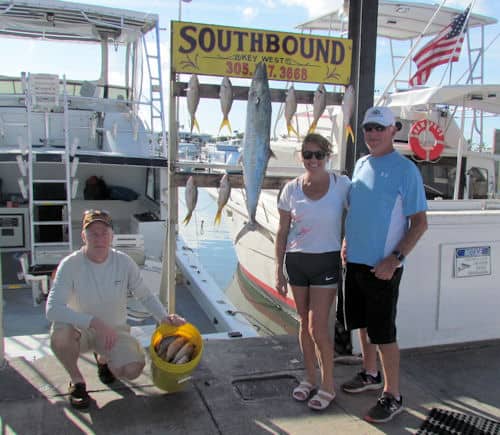 It was still a good day. We had close to our limit on Yellowtail snapper and we would have gotten it if we had stayed. Even though we didn't do anything out deeper, it was worth a try. We had plenty of fish for dinner and if you don't try for a sailfish, you will never catch one.